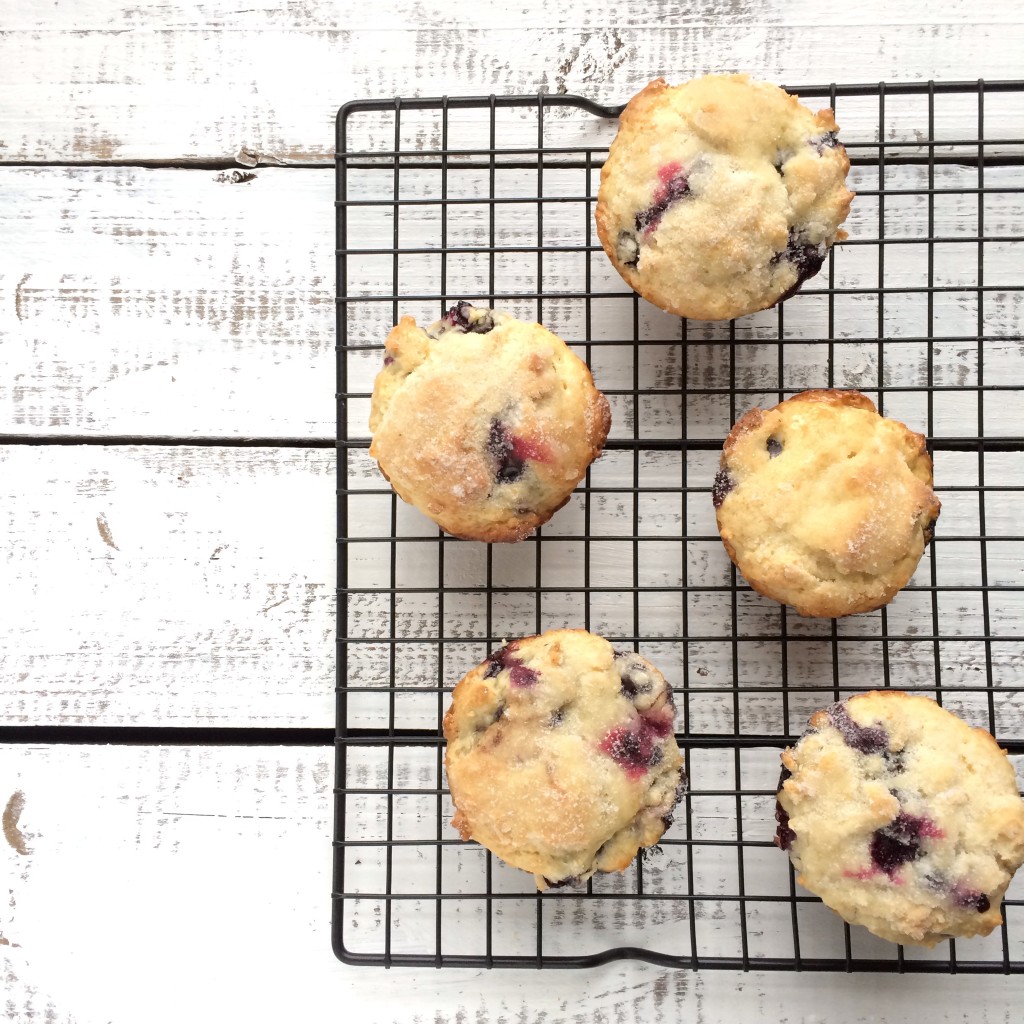 A couple christmases ago my man bought me Baking Illustrated. At the time I had just decided to get more serious about my baking. Up until that point I was more of a casual occasional baker. When I opened it I was thrilled because I needed a cookbook, but I really had no idea until recently how great of a cookbook it really is. I should have known immediately what gold it was, because my man is the king of reviews :) But I digress. I could go all day about why I love Baking Illustrated, but I'll spare you and simply recommend it to anyone who is at all interested in baking and especially those interested in the trial and error behind recipe development.
So now for the good part, these yummy Blueberry Muffins. I think I professed in an earlier post that I am a bit of a blueberry muffin connoisseur because I've spent a lot of time eating them. What I love about this particular recipe, from Baking Illustrated,  is that its kind of a cross between a biscuit and a muffin, so it basically chews like a soft scone. I love all takes on anything bread and would love any muffin, but I like a recipe that goes against the grain a bit. So lets get into it.
Ingredients
2 cups unbleached all -purpose flour
1 tbs baking powder
1/2 tsp salt
1 large egg
1 cup sugar
4 tablespoons unsalted butter, melted and cooled slightly
1 1/4 cups sour cream
1 1/2 cups frozen or fresh blueberries
1 large lemon
Extra sugar for dipping
Directions
Place your oven rack in the middle position and preheat the oven to 350 degrees. Go ahead and grease a standard sized 12 cup muffin tin
Combine flour, baking powder, and salt in a medium bowl using a whisk.
In a second medium sized bowl whisk 1 egg until its completely combined – this will take about 20 seconds. Now add sugar in with the egg and whisk vigorously until its thick and homogenous – about 30 seconds. In two additions add melted butter , make sure to mix after each addition. Finally add sour cream to this mixture in 2 additions – you just want to whisk enough to combine.
Now add blueberries to flour mixture – toss lightly to mix in blueberries. Using a rubber spatula gently fold in the sour cream mixture from step 3 until the batter just mixes together – about 30 seconds. Its really important here to not over mix. In fact if you have a few spots of flour in your mixture its completely fine.
Divide your batter up in the 12 muffin cups. You can spray a spoon with non stick cooking spray to keep the batter from sticking to your spoon. You will bake your muffins for 25 – 30 minutes until they are golden brown and they pass the toothpick test. About half way through the full cook time rotate your pan to help insure even baking.
Invert muffin tin onto a wire wrack and allow muffins to cool for about 5 minutes.
While muffins are cooling juice one lemon, remove pulp and seeds, and heat on low heat in a sauce pan. Add in 1/4 cup of sugar and let it simmer until a syrup forms.
Pour about 1/2 cup sugar into a small bowl. Using a pastry brush coat the tops of the muffins with lemon syrup and then dip muffins into sugar. Enjoy!!