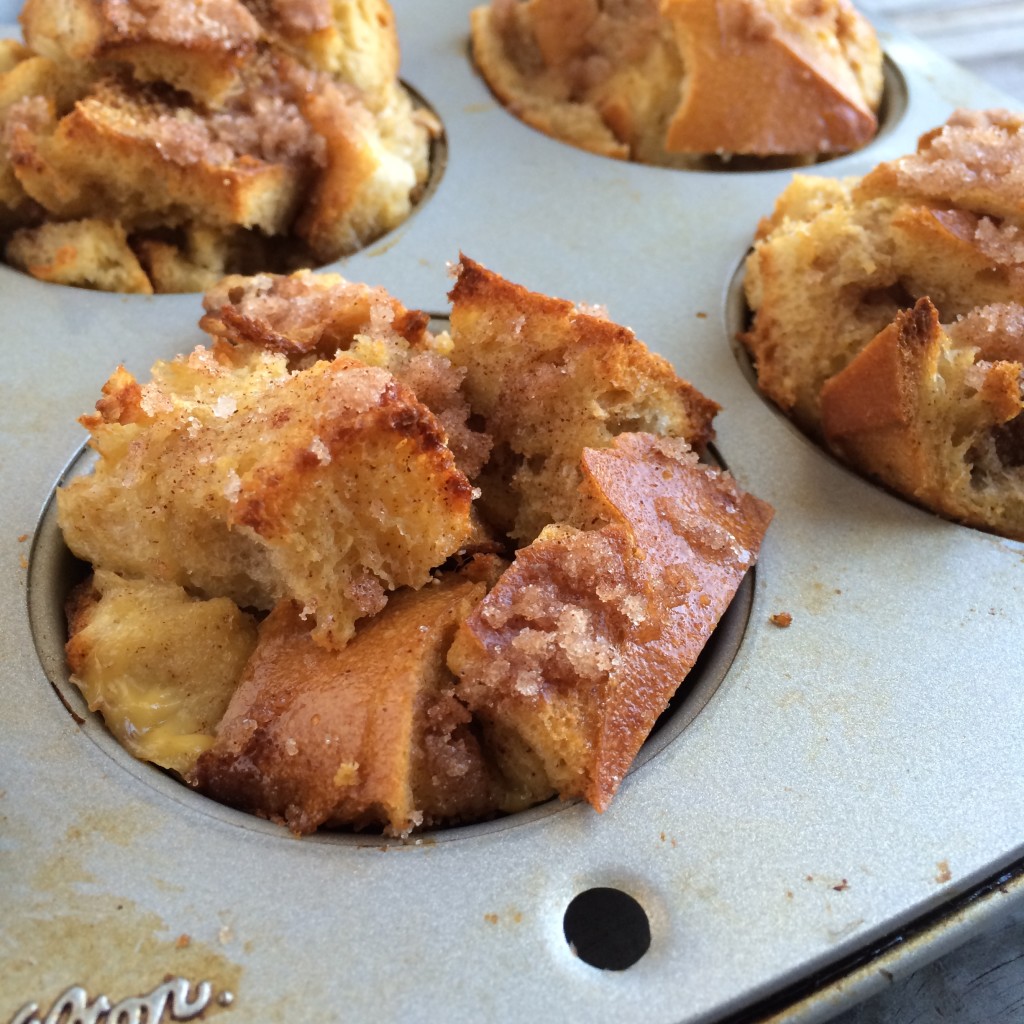 Ok, I think I must be on a muffin kick. It's kind of a testament to my personality, once I find something I like I tend to wear it out. But what is life really without a healthy amount of indulgence. I think I might repeat that to myself anytime I eat an entire box of something in one sitting, oops, or I've been listening to the same song for over an hour, double oops.
So, my absolute favorite thing to have for breakfast is french toast – love it, love it, love it. I've been wanting to share a french toast recipe, but I decided to think about it for a bit and give it a little twist. And here is what I came up with, they are cute, delicious, not too sweet, with a subtle adult  kick. Cognac French Toast Muffins. Lets get to into it :)
Ingredients
Muffins 
10 cups of bread (1/2 in cubes)
6 eggs
2 cups of milk
1 tbs vanilla
3 tbs cognac
2 tbs brown sugar
2 tbs white sugar
1 teaspoon ground cinnamon
Toping 
1 tbs unsalted butter
1/4 cup sugar
1/2 tsp  ground cinnamon
Directions
Grease a 12 inch standard muffin pan
In a small bowl whisk together eggs, milk, vanilla, brown and white sugars, cinnamon and cognac
Evenly distribute bread into muffin cups, then evenly pour mix from step 2 on top of the bread in muffin cups. You may have to push the bread down to help you evenly distribute the mix.
Cover the muffin pan in plastic wrap and refrigerate for about 2 hrs. Preheat your oven to 350 about 90 minutes after you have placed your muffin pan in the refrigerator.
For the topping, combine butter, sugar, and ground cinnamon using a food processor. A couple of pulses should do the trick
Evenly distribute the topping across all muffins. Bake in the oven for about 30 minutes. Place muffins on a cooling rack for about 5 minutes.
Enjoy them while they're hot!