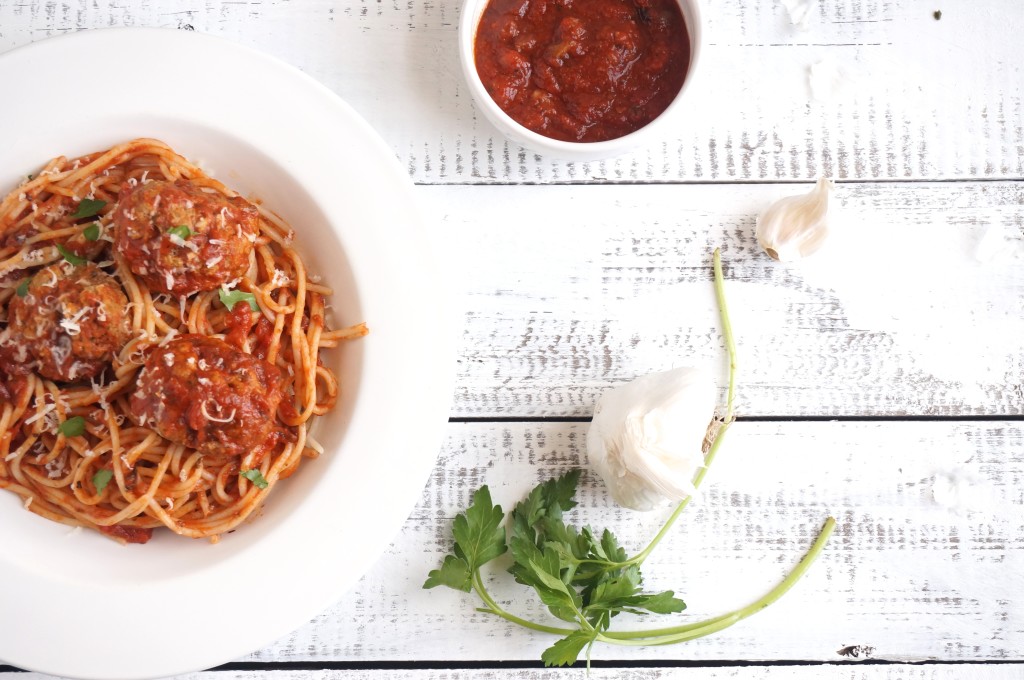 I am a big lover of everything carbohydrates. As you may remember bread is my poison of choice, but every once in a while I can get down with some pasta. Me and spaghetti go back a long way – it was my regular lunchtime selection in middle school. I always got the spaghetti with meat sauce, for some reason they never had meatballs. And I think I can count on my hands how many times I've had spaghetti with meatballs, that is until now.
A few days ago I decided to make some meatballs for myself and M, and I wanted to find a recipe that would let me break in my slow cooker – which I've had for over a year and for some reason have not used. So anyway, I was all set to make meatballs in the slow cooker using this recipe that required 6 -8 hrs of cooking time. Unfortunately, I realized at around 4 in the afternoon that I needed to start dinner, obviously that recipe wasn't going to work. So I looked around for some others that would be quicker, but I definitely still wanted to indulge in some meatballs that had been slowly simmering on top of the stove. So to make a long story short after some recipe browsing and improvising check out what I came up with. Lets get to it.
__________________________________________________________________________
Ingredients
1 lb Ground Beef 85/15
1/2 Cup Breadcrumbs
2 Garlic Cloves – pressed
1 tsp thyme
1 tbsp fresh parsley
1/2 teaspoon ground pepper
1/2 teaspoon salt
1 egg
1/4 cup half and half
A jar of your favorite marinara
Directions
Mix beef, breadcrumbs, garlic, thyme, parsley, egg, pepper, salt, and half and half together in a large bowl. Mix using your hands for the best results
Roll meatballs to about the size of a golf ball. 1 lb of beef made about 16 meatballs.
Put the meatballs into a pot of your favorite marinara sauce
Simmer on low to medium heat for about 1.5 hrs.