One of my favorite things about baking is taste-testing the batter – I have really fond memories of my mom setting aside left over mix just for me. I don't know if it's coincidence or a convenient subconscious choice, but most things I bake are fun to eat – before and after I put them in the oven. But, there are a few exceptions. Sometimes that final product is so mouthwateringly amazing that even I will wait patiently. One of those exceptions is Bread Pudding.
I love all things bread. As a child it's all I ever wanted to eat. Over the years, I have eaten my fair share of bread pudding, and a couple of years ago I decided I should develop my own recipe. So, finally, after two years of holidays and potlucks and a lot of trial and error I have finally settled on what I think is the perfect bread pudding receipt – in my humble opinion of course. So here it is.
APPLE – RUM BREAD PUDDING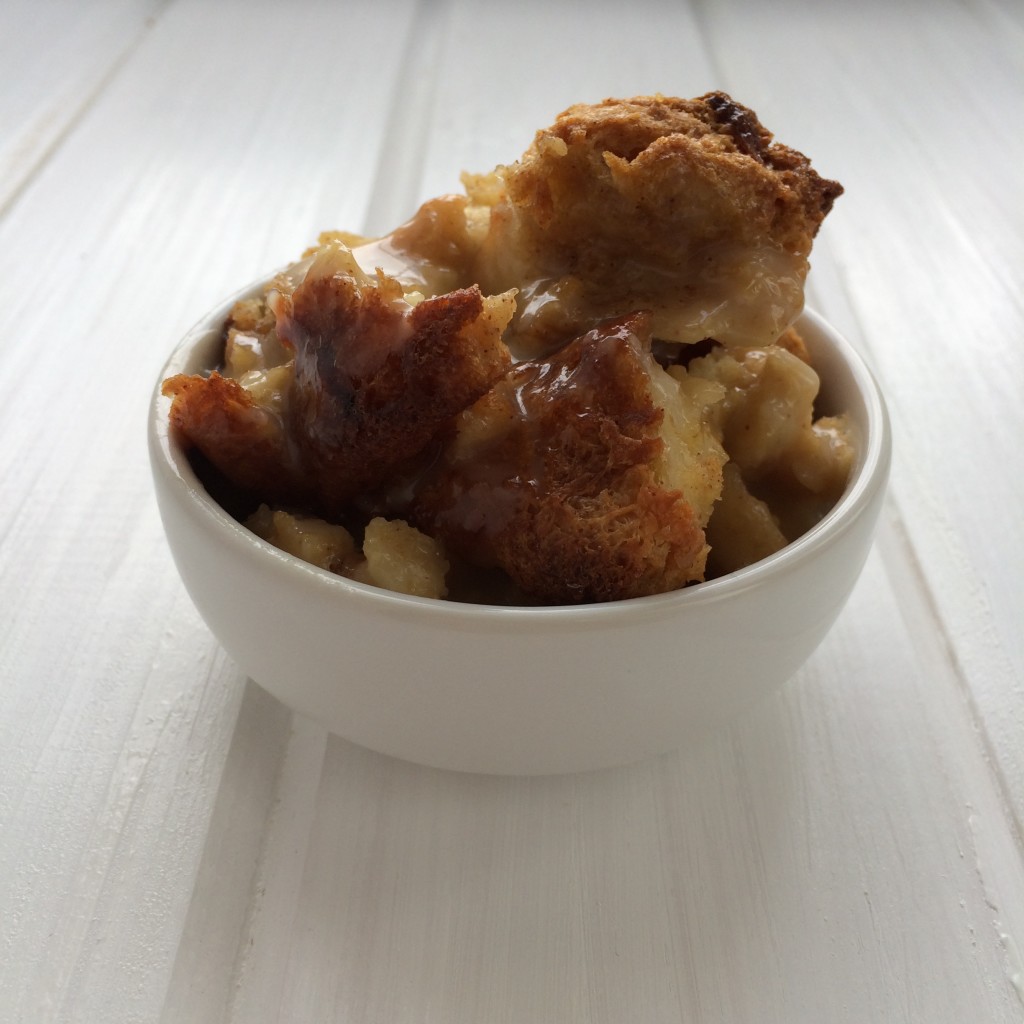 For the Bread Pudding:
1.5 lbs of Challah Bread  (torn into medium sized pieces)
1/2 cup White Granulated Sugar
1 cup Packed Light Brown Sugar
5 eggs
12 tbs Unsalted Butter
2 tbs Pure Vanilla Extract
1 large Apple sliced (Gala or Golden Delicious)
4 cups Half-and-Half
2 pinches of Ground Nutmeg
1 tsp Cinnamon
For the Sauce:
2 tbs White Granulated Sugar
2 tbs Butter
1/2 cup Heavy Cream
3 tbs Spiced Rum
Start out by setting your oven to 350 degrees F – be sure your oven rack is in the bottom third of the oven. Grease a 9 x 13 x 2 oven safe dish with a generous amount of butter (because I like my bread pudding on the thicker side I used a 9 x 12 x 2.5 pan). Tare Challah bread into medium sized pieces (about 2-inches) and place into a large bowl.
Peel, core and slice a large apple and set aside. Then pour 4 cups of half – and – half over the bread. Toss to be sure that all of the bread is evenly covered (don't over toss, Challah is a softer bread and won't hold up). Set this bowl aside while you start working on your custard.
In a medium sauce pan, over medium heat, melt 12 tbs spoons of unsalted butter. Once butter is completely melted, remove pan from heat. Then add in your white and brown sugars along with vanilla extract, nutmeg, and cinnamon.
Now in a smaller bowl whisk together 5 eggs. Now add your sugar mixture to your eggs – combine well (be sure that your sugar mixture is about room temp – you don't want to accidentally cook your eggs). Add your custard mixture to your bread. Toss gently until even, and pour into your pre greased baking dish. Finally place apple slices on top and gently work them into the pudding.
Cook in your oven – covered with aluminum foil – for 30 minutes. Remove aluminum foil and continue cooking for another 35 minutes. Remove from oven when golden brown and you have a clean toothpick test. Set aside while you prepare the glaze.
In a medium saucepan over medium heat combine heavy cream, sugar, butter, and spiced rum – stir until well combined. Let glaze heat for 1-2 minutes. Now pour your glaze, evenly, over your bread pudding. I like to let the glaze sit on bread pudding – covered, for about 30 minutes – before serving. Top it off with whip cream if you like and enjoy!!